Hi everyone,
In this post just going to recommend a couple of books that I've read in the last couple of years that I really enjoyed (in no particular order):
1984 -George Orwell
 (Published by Penguin Books Ltd)  
I recently reread this book and I can tell you that it will give you the creeps and it resonates with you for a long time particularly in this day and age. Orwell's book will make you think about privacy, "Big Brother is watching you".  How much privacy do we really have? If anything this book will make you think about how much of about yourself you post and share on the internet (Facebook, Instagram, twitter, etc).
The East of Eden -John Steinbeck 
 (Published by Penguin Books Ltd)
This book explores the relationship between siblings. Steinbeck explores good and evil. It will also make you think about the bible, in particular the story of Adam and Eve and the story of Cain and Abel. The relationship between the brothers is quite often compared to that of Cain and Abel. Be prepared to be shocked.
Far From The Madding Crowd – Thomas Hardy  (Published by Penguin Books Ltd)
I would describe this book as a tale about a young woman's independence . I loved this book, I've read it way more than once and I enjoyed it more each time I've read it.
The Forbidden Queen – Anne O'Brien (Published by: Harlequin (UK))
I liked this book because not much is known about Katherine de Valois (the woman who was married to Henry V and gave birth to Henry VI ) and her affair with the Welshman Owen Tudor (who himself is a descendent of Welsh royalty). I like the fact that even though this a fictional account of her affair with Owen Tudor it's from her point of view. If you like books based on history, you'll definitely like this one.
Outlander (published as Cross Stitch in the UK)- Diana Gabaldon  (Published by: Cornerstone)
A book about time travel, love and adventure. That's probably the best way to describe it. It's amazing. I love any book that explores time travel. Well i love all things time travel related. Gabaldon's book also incorporates history  (Scottish history, which is so fascinating, I learnt so much information that I didn't know). It incorporates a lot of Scottish traditions and myths which is very interesting. I love mythology. I enjoyed it. If you don't like surprises I suggest you read this book before watching Season 1 of Outlander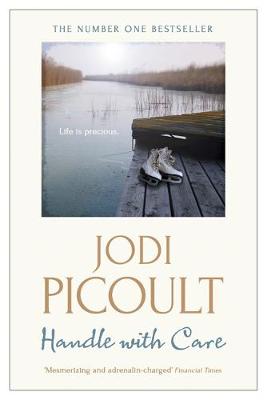 Handle with Care- Jodi Picoult  (Published by: Hodder & Stoughton General Division)
I read this book years and years ago but i still think about it every now again. It made quite the impact on me. Picoult's story is so poignant and haunting. She delicately talks about Osteogenesis imperfecta and the struggles of having a child born with this genetic disease. It will make you question everything you believe and it'll make you question your own morals. This book still haunts me.
Hypothermia – Arnaldur Indridason  (Published by :Vintage Publishing)
This is an amazing Icelandic thriller.  If you enjoyed the BBC show Trapped you'll probably enjoy reading this. I was enthralled. It is quite creepy.
So those are my recommendations, i'd be interested to know what you think after you've read them or if you've read them before what you thought of them. Feel free to leave a comment .
Please note: The images of book covers belong to the artist and the publishing companies of the books.